[MISC][RELEASED] Dispatch of Variety
ABOUT THE MOD:
What happens when you spend hundreds of hours trying to get the perfect dispatch? This happens!
Dispatch of Variety is the official expansion pack for the prominent World of Variety, developed by me, with help and support by Cass and various modmakers from the community. The mod itself aims to deliver a fun, action-packed, and diverse experience, be it from emergency responses to law enforcement chases. It pushes Grand Theft Auto V's dispatch to its optimum potential whilst strictly staying true and friendly to the game's lore.
Furthermore, it installs supplementary lore-friendly peds and vehicles that would enhance ambience, diversity, and immersion as you explore the beautiful world of Los Santos and its surrounding countryside. The law enforcement weaponry has also been overhauled, expect seeing sights where the law enforcement makes use of weapon attachments during their conquest for you. Optionals are also offered inside.
Why are you still reading this? Just click download and install it already!
Disclaimer: Pirated versions of the game are not, and will never be supported. This mod also does not make use of scripts, everything is done natively.
[
](https://www.gta5-mods.com/misc/dispatch-of-variety
FEATURES:
Perfectly compatible with World of Variety and IVPack
Fun, action-packed, and diverse chases
Incorporated lore-friendly ped and vehicle models
Ambient spawns of the law enforcement in appropriate areas, including the added peds and vehicles
More color variations for select vehicles
Overhauled law enforcement loadouts that allows for the use of weapon attachments, and enhances diversity and immersion
Better transitions from each wanted level, each star will last longer, in order for you to enjoy what the dispatch offers for each of these stars
Offers a handful of optionals to choose from, from compatibility patches to AI tweaks
OIV Package Installation method, everything will be installed automatically, only with a few clicks
CONTRIBUTORS:
@Cass - This mod is built around World of Variety. He encouraged me to make the mod, helped test, gave suggestions, and helped tweak the popcycle for ambient spawns and add black as a new color variation for the APC.
-**@CP **- Gave permission to edit files from IVPack for compatiblity, and immersion.
@Olanov - Huge thanks to this guy. Tested, helped me get in touch with his friends below, as well as bug fixing, and gave suggestions. In short, the mod won't make it to release the way it is now without him. He also openly gave permission to include his Added Detectives mod.
@Custo - Special thanks to this man, for sharing his knowledge on a few things, and open gave me permission to make use of/include his mods, specifically:
Total Cop Overhaul
FIB Kuruma
Tactical Package for NOOSE Annihilator
@Lundy - Gave his share of ideas, and knowledge on the lore, also gave me permisssion to include his mods, quite specifically:
Vapid Sheriff Interceptor
Declasse Rancher - Los Santos County Sheriff
Declasse Merit - LSPD Police Patrol
Vapid Stanier - Unmarked Police Cruiser
NOOSE Vapid Stanier & Mammoth Patriot
Vapid Stanier - San Andreas Highway Patrol
@Unmutual - Openly gave permission to include NOOSE Patriotism & Immigration Authority Pack and White Sheriff2 SUV as part of the mod.
@Netman - Openly gave permission to make use an updated version of his SAHP Added cars mod.
@Yard1 - Openly gave permission to make use of his mods for the mod, specifically:
Police Maverick Mapped
HVY Insurgent Mapped Default-Style
Unarmed Annihilaor with Rappel
Better Police Weapon Loadouts
@11john11 - Gave permission to include his Brute Pony - 90s LSFD Ambulance
@Guncharted78 - Openly gave permission to include his Firetruck - Heavy rescue vehicle
@Aziz-Kuchkarov - Openly gave permission to include his Military Mammoth Patriot
@Rippler - Helped with sharing his knowledge on the metas.
@NefariousBonne - Entertained my numerous questions, helped get me permission from Dila a few months back.
@Dilapidated - Was generous enough to lend me some values from RDE.
PERMISSIONS:
As seen above, this mod consists of work from various mod makers, so permissions to redistribute is quite a complicated thing.
SCREENSHOTS: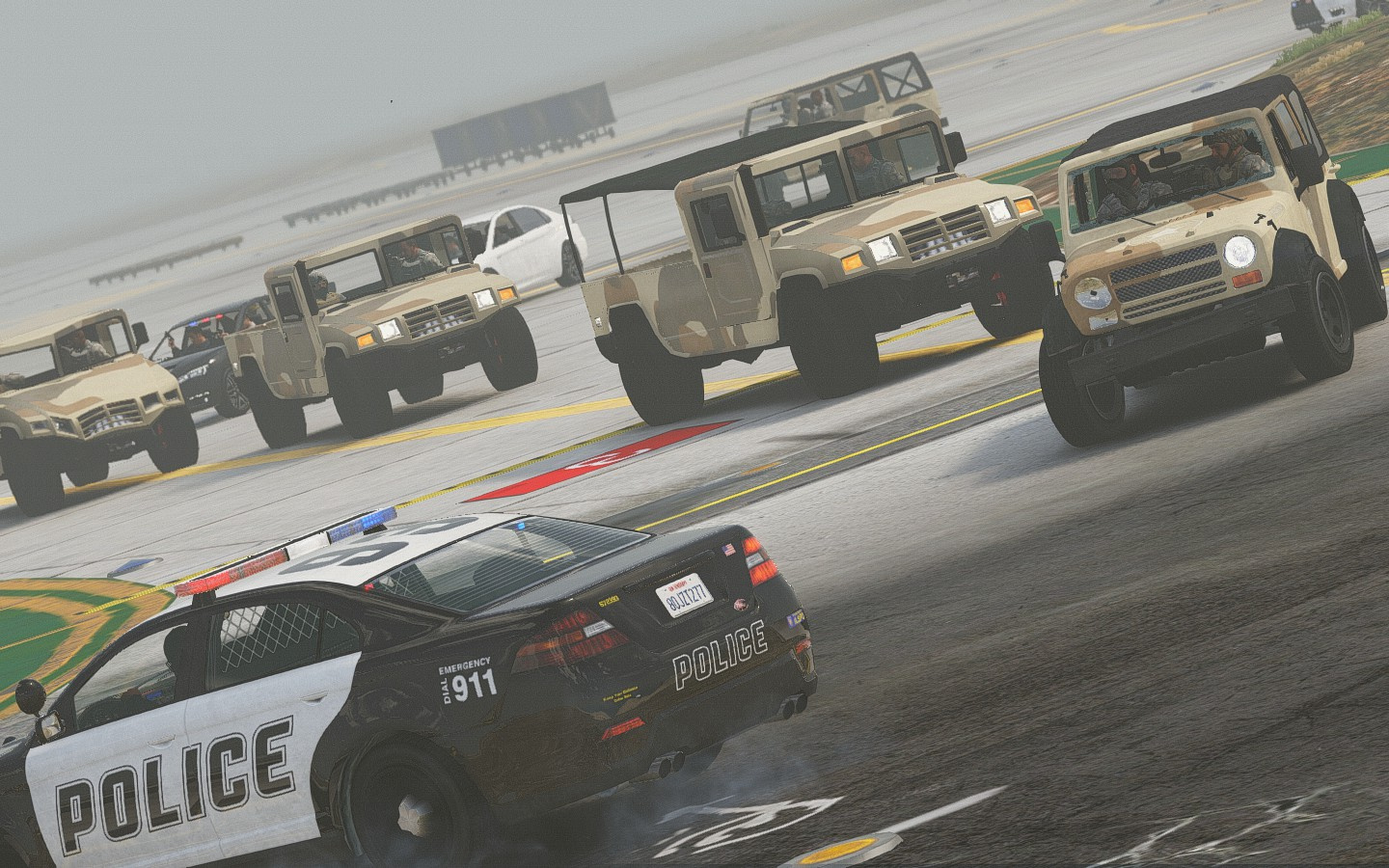 posted in Releases & Works in Progress