[VEHICLE][WIP] Brown Streak Passanger Train (From GTA:SA)
So. Since there's not many train mods yet, I thought I'll try expanding that catergory.
(Even though I said I'm done with trains lmao)
Some of you might remember the "Brown Streak" (puntastic, huh) railroad company from Grand Theft Auto San Andreas back from 2004. I for one was sort of disappointed to see that it didn't make it over to V as the resident passanger company. Not nescessarily because of the name, but now V doesn't have any passanger trains at all.
So one day I decided to completely recreate the model of the train from scratch, along with the textures, and here is the result.
I present to you -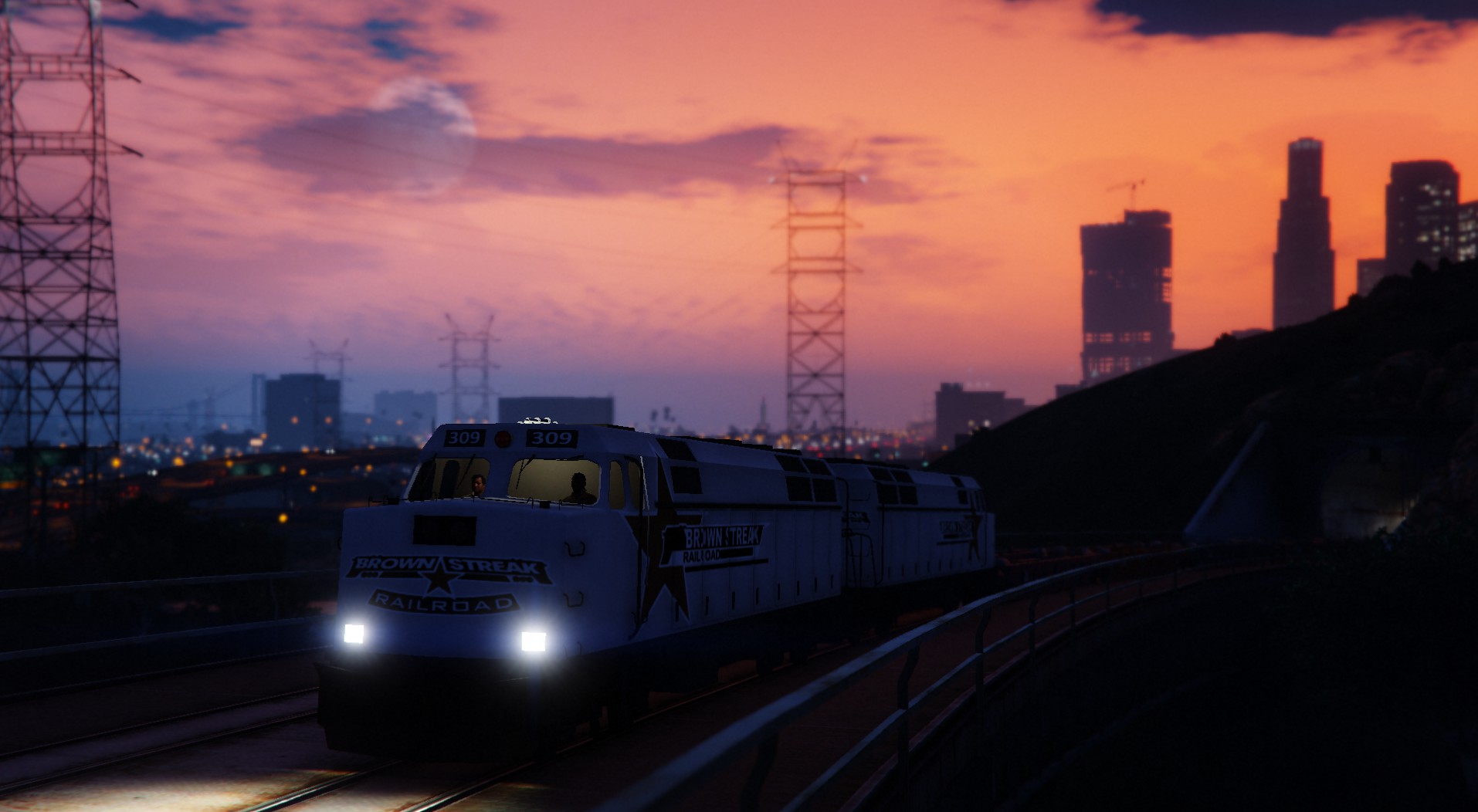 The Next-Gen Brown Streak!
It is very much WIP, and as of now I have no idea when it will be released. I'm posting here to inform the masses that it exists and get some feedback.
What it does have:
Somewhat working collision
Fully fledged interior
Correct driver position (AI driver will have his hand on the controls)
Exterior is mostly UV-Mapped, so it will be easy to create skins with a provided tempelate
What it doesn't have:
A matching coach car (It is modelled and textured already, I just didn't port it into GTA yet)
Breakable glass
Dirt mapping
It is still currently a simple replace, not an add-on
LODs
Lights similar to the Bombadier Traxx DB BR 145 train mod

So yes, there is still a long way to go here before this is releaseworthy. Currently I'm trying to fix some problems with the glass being opaque at random intervals, so that might take a while.
I'll also need some help with some of the features if I want to implement them, so if someone would be so generous as to help me out, I'd appriciate it.
Until then, have some more smaller screenshots.


And here's some Railroad Engineer chaos aswell:


And for the last one - A comparison between my model and the original one:

posted in Releases & Works in Progress